Household (re-usable) rubber gloves
A product that can be purchased at almost any hardware store is household gloves. They have a wide range of applications not only in everyday life, but also as an indispensable element of protection for employees of cleaning agencies, as well as used in many production chains.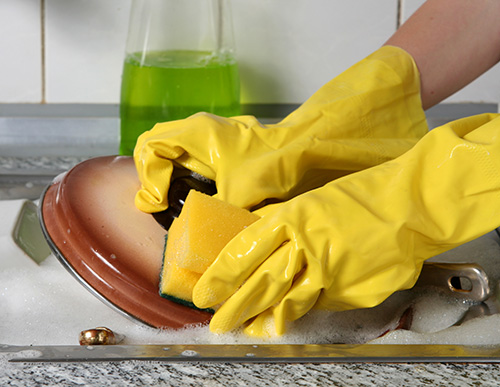 Despite the high elasticity of latex, the manufacturer recommends choosing a model according to size for the most effective protection of hands. This category of products has a design with an elongated cuff that covers not only the hand, but also part of the forearm. Due to the anatomical shape, the glove perfectly fits the hand, does not hinder movements, does not slip or twist even during active work.
Features of the glove material
Latex successfully protects the skin from exposure to such substances as:
Dust, dirt, soil, clay, sand (household gloves are often used by gardeners and gardeners);
Water;
Cleaning and detergents of various concentrations;
Weak solutions of alkalis and acids
Acids in high concentrations, as well as lubricants of organic origin, can destroy the structure of the latex. Stronger and specialized hand protection is required for interaction with these kinds of substances.
Even with the minimum thickness, latex gloves successfully protect hands from minor injuries, scratches, abrasions and cuts. Latex resists punctures and is not prone to abrasion. To retain their properties for a long time, such types of latex gloves should be stored in a place without direct sunlight.
Disposable manicure gloves
Disposable manicure gloves protect your hands from germs and bacteria in a nail salon environment. They also provide ample protection against hazardous chemicals found in most nail polish removers, acrylic powders and gel nail formulas during specialist manicure services. 
Read here about disposal of nail polish.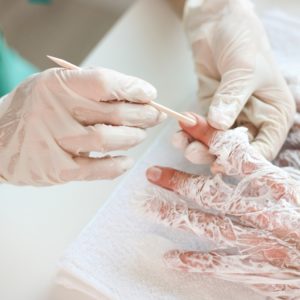 Manicures, pedicures, and false nails keep the specialists in close contact with clients and harsh chemicals. When dealing with acetone, you should better protect your hands with latex or vinyl gloves. At the same time, disposable manicure gloves protect against numerous chemicals commonly found in nail products. 
It is important to note that disposable nitrile manicure gloves effectively protect against blood-borne diseases and infections that you may encounter when working in direct contact with clients.
PPE Gloves
E.g. in the European Union, most gloves (with an exception of those designed for private use) fall in the category of Personal Protective Equipment (PPE) and must adhere to the PPE standards and directives. PPE is defined as "products that the user can wear or hold, to be protected against risks either at work, at home or whilst engaging in leisure activities" (source: https://ec.europa.eu/).
Protective gloves fall into one of the three categories, depending on risks, against which they are designed to protect the users:
PPE Category
I
II
III
Classification
Minimal risks
Medium risks
High risks
Product examples
Gardening gloves
Waterproof working gloves
Protective gloves for mechanical risks
Protective gloves for chemical risks
Requirements
1. Technical file
2. DoC
3. User manual
4. CE mark
1. All documents required by Category I
2. UE type examination by a Notified Body (module B)
1. All documents required by Category II
2. Annual PPE Surveillance by a Notified Body (module C2 or D)
3. Notified Body number (near the CE mark)
PPE gloves need to be compliant with the applicable EN standard (product safety standard for manufacturers, users, consumers, and regulators in the EU member states).
EN 420 Protective Gloves – General Requirements
EN 388 Protective Gloves against Mechanical Use
EN 12477 Welders Gloves
EN 407 Protective Gloves against Thermal Risks
EN 659 Protective gloves for firefighters
EN 13594 Protective gloves for motorcycle riders
EN 511 Protective gloves against cold
  EU market only permits gloves with the CE marking – "certification mark that indicates conformity with health, safety, and environmental protection standards for products sold within the European Economic Area (EEA)"
Disposal of gloves
As a rule, used disposable gloves are disposed of as residual waste. It doesn't matter these are it's vinyl, nitrile or latex gloves. None of these materials is intended for recycling. Therefore, they do not belong to plastic waste and are not suitable for recycling. Although latex gloves are biodegradable, they should not be carelessly thrown away, especially after contact with other substances.
However, if the gloves come into contact with special chemicals, substances hazardous to health, etc., please inquire about their separate disposal beforehand. Chemical contaminated gloves must be disposed of in accordance with the regulations for the relevant chemicals, in which case environmental and disposal regulations apply. 
Disposable medical gloves must be collected, transported and disposed of by specialized organizations that have special permits for this.
Instructions for disposal of any type of glove can be found in the user manual printed on or included in the packaging. 
Correct method of taking off the gloves
When removing gloves, you must also follow a few instructions to ensure your safety. If the gloves have come into contact with waste, contaminants or harmful substances, contact with the skin should be avoided. The ideal approach is shown in the image above and includes the following steps:
Take one of the two gloves between the rounded edge and your wrist with two fingers.
Then pull the glove away from your body towards your fingertips.
Continue holding the inside out glove in your hand.
Gently slide one free finger under the edge of the remaining disposable glove.
Using your fingers from the inside, pull the glove over your hand, both gloves should now be clean inside out.
The gloves can then be disposed of (e.g. with household waste).
Even if the skin has not come into direct contact with pollutants, you should still wash your hands!